Every year, the company selects three to five employees from poor families and carries out build a new house project through labor unions, restaurants, and outside support.
2018-06-14
Visit the a handicapped school
We visited Bentre Regional a handicapped School to console and to givie scholarship, school supplies, and gifts.
2018-06-14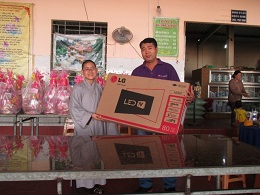 We
visited the children's orphanage to console and to give them money, electronic products and comfort supplies.
2018-06-14